I'm a bit late to the pandemic-induced binge-watching, but I'm doing my best to catch up with the rest of the world. I had no interest in watching Tiger King, and I added The Queen's Gambit to my queue but haven't started it yet. Then Netflix recommended that I watch Crash Landing on You, a Korean drama, because the algorithms know that I have a fascination with documentaries about North Korea. I thought I'd probably be bored. I quickly realized that I was completely wrong.
The plot of Crash Landing on You revolves around a South Korean heiress and entrepreneur who gets caught in a sudden tornado while paragliding and is swept into a tree in the DMZ. She is found by a North Korean soldier, who decides to help her escape rather than reporting her to the authorities. Romance ensues. I had not intended to get sucked into this show (or any other), but I found the characters very well rounded and the plots so well crafted that I just kept watching, sometimes up to 3 hour-long episodes in one day. Once I'd watched one Korean drama, Netflix started recommending more.
Things I really like about the dramas I've watched so far:
These are mostly single-season shows, about 12-16 episodes per show, and the entire season seems to have been written ahead of time. Thus the plots are very well tied up in the end, and various pieces get picked up and emphasized throughout.
The main characters are mostly well developed, with backstories and individual quirks. They are universally well groomed (maybe the least believable part, especially since several of these stories involve kidnapping or police stakeouts.
There's a great mix of comedy, romance, and suspense. Even though each show has a primary genre, it's not entirely within that genre.
The supporting cast is frequently as enticing as the main characters.
I've been picking up on some themes that appear to be core characteristics of contemporary K-dramas:
There is a cheesy love theme (often including English lyrics) that plays whenever the romantic leads are flirting or kissing or holding hands.
There is at least one scene in a hospital. Usually one of the lead characters gets shot or stabbed or has some kind of major illness.
There is at least one funeral, mostly not related to the lead characters being in the hospital. All men (even the king) wear plain black suits and black ties with a white shirt.
As soon as winter arrives, the turtlenecks come out.
Men don't seem to grow facial hair, even after many days of being away from home on various quests and stakeouts and things.
People frequently gift each other with kimchi. It's especially valuable if it comes from someone's mother.
Product placement is blatant, to the point of characters having monologues about how delicious the chicken is. Some South Korean products exist even in North Korea or the parallel-universe Kingdom of Corea. Other products are global, such as the Lexus cars that everyone drives in both Spain and Korea.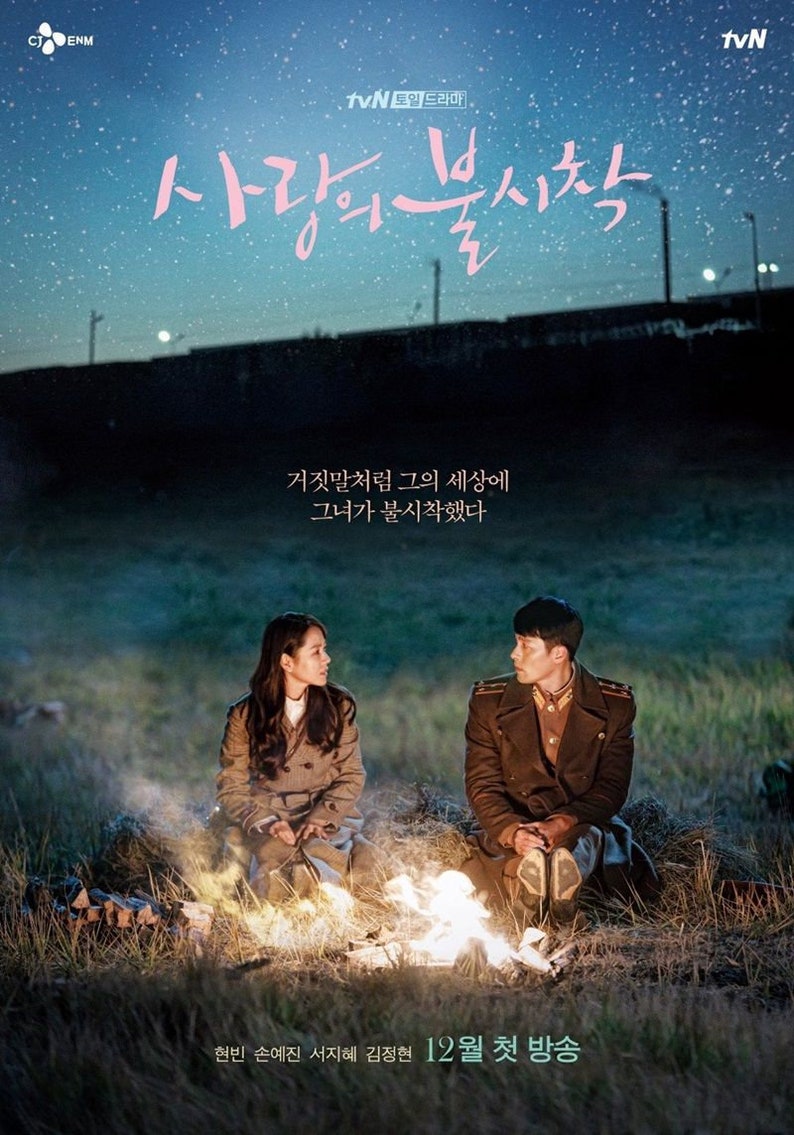 So, here are brief reviews of the shows I've watched so far, with commentary and an approximate turtleneck count.
Crash Landing on You: a South Korean heiress gets stuck in a tornado while paragliding and crashes into the DMZ, where a North Korean soldier (Hyun Bin) finds her and instead of turning her in, hides her and tries to help her escape. Then it's her turn to hide him when he makes it to Seoul. She buys him some very well cut suits. Of course they fall in love… there's a great ensemble cast as well as the very attractive leads. Sadly, he wears turtlenecks more than he should. (Also, it turns out that they had actual North Korean defectors as consultants, so the depiction is more accurate than I had thought it might be. I still doubt North Koreans have as perfect teeth as the actors do, however.)
Memories of the Alhambra: A Korean tech CEO (also Hyun Bin, looking hot in more suits and business casual) discovers a really amazing virtual reality game while visiting Spain, but it turns deadly. This one is much darker and though it has a romance as well, that's much less at the center of the show. No turtlenecks at all. Everyone drives a Lexus.
When the Camellia Blooms: A small town police officer falls for a single mother who runs a bar in town. This is about 2/3 goofy cute romance, 1/3 thriller as they end up chasing a serial killer who's menacing the town. This is my favorite of the shows I've watched so far. Minimal turtlenecks.
Romance is a Bonus Book: A recently divorced woman struggles to get a job; she's rejected by employers because she had spent the last ten years raising her daughter. Her childhood friend is a successful author and works for a quirky publishing company; he lets his friend stay at his house. She leaves her education and work experience off her resume, applies for an entry-level position in his company, and gets the job. It turns out that her author friend has had a crush on her for a very long time. Cue cheesy music. The most turtlenecks of all the shows I've seen, so much so that it's called out by name in this Reddit discussion (my favorite line: "The richer the man, the higher the turtleneck.").
The King: Eternal Monarch: In a parallel universe, the Korean peninsula is a monarchy, ruled by a benevolent, very smart, and extremely attractive 33-year-old king. He became king at age 8, when he was stabbed in the neck by his uncle, who killed the hero's father (the then-king) in a coup. He also has a magic flute that opens a portal into other dimensions, including the Republic of Korea in our universe, where he meets up with a badass police detective (and falls in love with her). 1/2 romance, 1/2 thriller (the RoK police are working a case that turns out to be connected with the king's pursuit of his uncle; people are killed and kidnapped across the parallel universes). Probably about 25% turtlenecks, but Lee Min Ho doesn't look that bad in them because he has a long neck and they sort of fit in the plot due to the neck stabbing scar.
Mystic Pop-up Bar: As punishment for committing suicide on a sacred tree, thus causing 100,000 people to die in a war, a young woman was sentenced by the afterlife police to spend 500 years running a bar and settling people's grudges. In 2019 Seoul, she hires a young man with a magic power to help her convince the last few people she needs to meet her quota. They help each other overcome their tragic backstories and (re)connect with the love interests they were destined for. This is a bit more episodic than the other shows, with a separate "case" to solve each week, but there's also a few plot lines that run through the whole series. No turtlenecks at all!